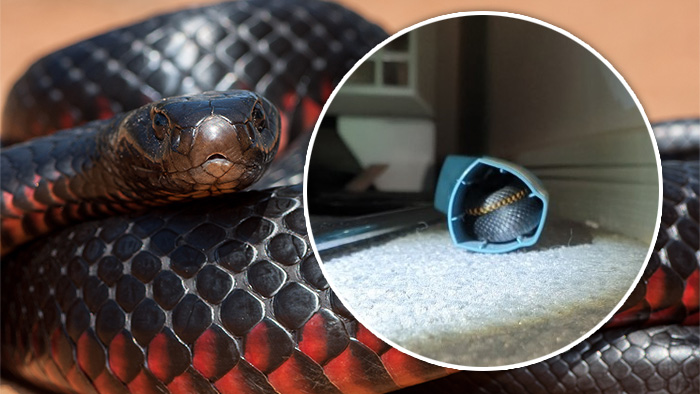 A reminder to be careful with your washing! A Sunshine Coast snake catcher has captured a photo that has gone viral, finding a venomous baby red-bellied black snake hidden in a teen's asthma inhaler.
The photo which was shared on Sunshine Coast Snake Catchers 24/7 caught the attention of the internet with the unusual location where the snake was found.
The post explains a teenage girl was doing her washing and brought it inside. When she placed it on the floor, she noticed a dark coloured snake coming out of the clothing. When the snake catcher arrived, she found the baby red-bellied black snake inside of the girl's asthma inhaler.
They say it was 'super lucky' they were able to find the snake and it was 'one of the most incredible places' they've ever found a snake. The snake was safely relocated.
With almost four thousand reactions, many of the comments on the post were of shocked followers, with comments such as:
"Well thanks now I'm forever going to have nightmares - yours truly from an asthmatic."
"Just when you thought snake shenanigans couldn't get more crazy!"
"We must now check everything OMG!"
Red-bellied black snakes are venomous snakes that are indigenous to Australia. They are found on the east coast of the country and are said to be one of eastern Australia's most encountered snakes. The snakes average 1.25 metres in size as adults and are not known to be an aggressive species, but do attack if provoked.
The Sunshine Coast Snake Catchers 24/7 are professional snake catchers and service the entire Sunshine Coast, Noosa and Deception Bay regions and you can follow their snake catching adventures on their Facebook page.
Image Credit: (Sunshine Coast Snake Catchers 24/7 / Facebook) + (Ken Griffiths / Shutterstock.com)