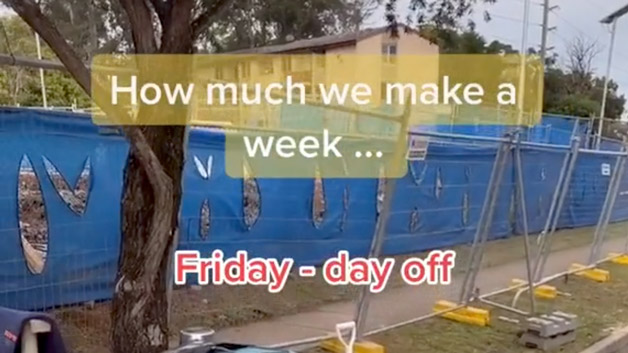 An Australian TikTok traffic controller has shared how much she earns a week which has made the internet envious with over seven million views so far.
@chloetaouk2 took to TikTok with the cheeky caption, "We need a pay rise #trafficcontrol" posting how many hours she works and how much she earns per day. The video currently has almost 900,000K likes and over 13K comments.
She writes in the video:
"How much we make a week …"
• Monday 12 Hours $496
• Tuesday 10.5 Hours $409.45 
• Wednesday 14 Hours $611.5
• Thursday 15 mins $148
• Friday - day off
• Saturday 9.5 Hours $557
• Sunday 12.5 Hours $727.4
For the six days worked, she earned a total of $2,949.35.
Viewers took to the comments, some saying how easy the job is. One user said, "So easy omg you just hold up the slow sign thingy" and another said, "And all they do is stand around or hold a sign."
Some wanted to get in on the action, writing, "Y'all hiring? I'm tryna get some money with y'all 😅" and "I don't even make what u made in 15 minutes a whole 8 hours, I need to find a job like this."
Although many questioned the pay, there were viewers who backed up the traffic controller and came to her defense with one explaining how dangerous the job was. They commented, "For the haters, traffic controllers risk their lives with oncoming traffic to protect the workers. It might look easy, but it's also dangerous. 🙄 smh"
Seek.com.au, describes the job as: "Traffic Controllers direct the flow and speed of vehicles, and ensure the safety of drivers, pedestrians and workers. Traffic Controllers are often relied on for manual control of vehicles where automatic lights are unavailable, such as next to road works, construction sites, during public events and as part of a coordinated emergency response."
Image Credit: (@chloetaouk2/ TikTok)