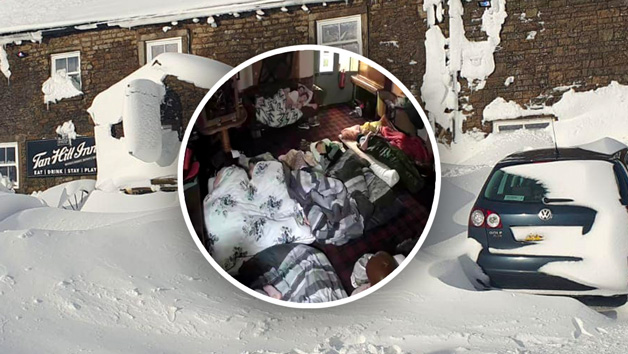 A group of 61 people were locked in a pub in the UK for three days due to being snowed-in. Guests and staff were trapped during a show with an Oasis Tribute band called 'Noasis' which provided entertainment for the three days they were stranded.
Reports say 61 patrons braved the UK winter to see the Oasis cover band at Tan Hill Inn which sits 1,732 feet above sea level in Yorkshire Dales National Park. Being known as Britain's highest pub, the venue was covered last Friday 26th of November with heavy snowfall, leaving all guests and staff stuck with roads blocked and access limited.
Some guests were able to leave with the help of a mountain rescue team including a man who needed medical treatment, however around 50 people remained trapped in the pub.
Although the Tan Hill Inn does have some accommodation, the rooms were limited meaning many had to sleep on sofas and mattresses on makeshift beds in the pub's lounge whilst keeping busy with pub quizzes and games, movies and karaoke. Luckily during the winter season, the venue had stocked up on food meaning there was no risk of running out.
Three days later, guests were finally able to leave, with the cover band, 'Noasis' announcing on Facebook, "Noasis have left the building!"
They gave thanks for the guests and staff writing, "Thanks to everyone for your messages of support, thanks to everyone for the camaraderie within the venue. Thanks to Mike, Nicola the venue manager and her wonderful staff for looking after us all and thanks to Kendal mountain rescue for all of their assistance. If we've forgotten anyone then a big thank you to you too! It's been emotional!"
The pub called the ordeal a life changing experience, thanking all who were involved writing on Facebook:
"We will ALWAYS remember this group of amazing people who came together, and hopefully, in challenging circumstances, enjoyed what we all think was a life - changing experience. 
 IF YOU are one of those people in the crowd, you could honour us by saying a few words in review and tag us in. I know as owners we are incredibly proud of our staff - each and everyone. Well Done NICOLA & Team. ( currently we are in all the National Press / National TV BBC & SKY ) in the New York Times. As well as Fox News .. and GMTV - good luck with that Nicola. ) Not bad PR for you all … you can all say " I was there " 
Image Credits: (@tanhillinn / Facebook)