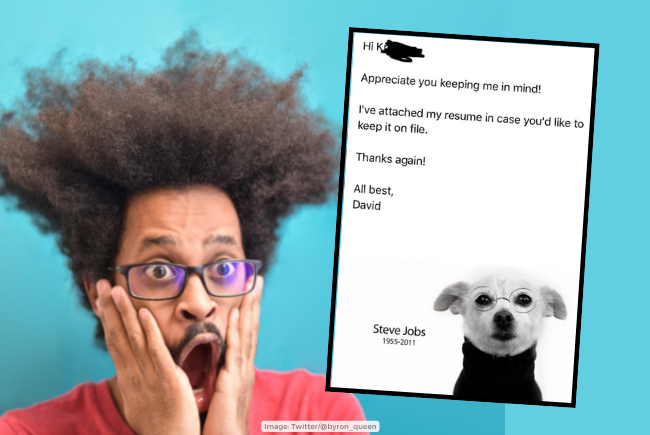 Job hunting is an anxious business, and when you hit send on that all-important application, you hope everything is perfect.
So imagine how Twitter user David Byron Queen must've felt when he realised he'd accidentally sent a prospective employer a photo of a dog instead of his resume.
And not just a cute pet photo, but an image of a dog dressed as the late Apple founder Steve Jobs.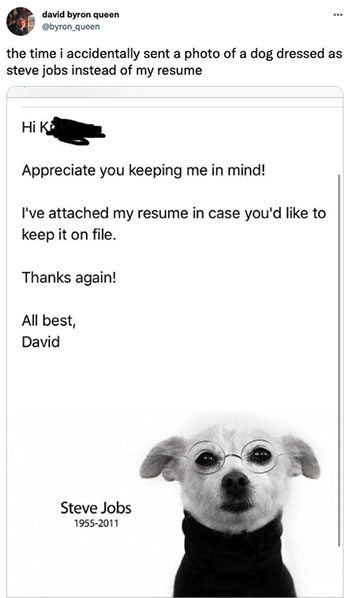 Image: Twitter/@byron_queen
Of course, it's given the internet a good laugh, with more than 17,000 retweets.
So dressing your dog like Steve Jobs IS normal! pic.twitter.com/UXQFSFQ3uH

— Natalie Egenolf (@NatalieEgenolf) June 14, 2022
I thought it was your email signature which would have made me laugh hysterically. Most cover letter/email introductions are so heavy, it'd be fun to get a joke

— Megan M (@CozmoMeg86) June 14, 2022
I can't stop laughing at that dog's face

— Shiksha🌻BUY MY BOOK (PLEASE?)💛🧡 (@ShikshaWrites) June 14, 2022

You're hired!
Many said they'd hire David despite - or indeed because of - the mistake.
As a hiring manager, this would absolutely DELIGHT me to receive.

— Jorts Life Skills (@tremonenta) June 14, 2022
I would hire you ON THE SPOT.

(This is probably why I am in charge of hiring exactly no one.)

— AE Vorro (@witavorr) June 14, 2022
I'd hire you but you have to bring the dog every day.

— Bumble (@theTwits7) June 14, 2022
Given the positive response from all the hiring managers here, I may start attaching a photo of my dog to applications from here on out! 🤔

— Mojo Rising (@BrunnenGeez) June 14, 2022
We've all been there, right?
Whether applying for jobs or in the job we already do, we've all done something cringey at one time or another right? Plenty of people were willing to share their equally hilarious/mortifying moments.
One time I set my "out of office" memo and added a link to what I thought was the staff directory but in fact it linked to a dog comic. My co-workers called me at home laughing their asses off. (The dog comic was quite good, as a matter of fact.)

— AB Bond (@Blondiegrrl) June 14, 2022
Accidentally (and inexplicably) sent a GIF of King Bob the Minion with a job application years back.

Somehow, got the job 😂 pic.twitter.com/zxLcpM6mrc

— Sarah Hill 🇺🇦💙💛 (@thelovelysarah) June 14, 2022
June 14, 2022
You're hired!
I once sang the ABCs to a lawyer when I applied for a file clerking job!#TrueStory

— xanath a. human (@WhirledHouse) June 14, 2022
Hey, you never know what might happen!

One of the best jobs I ever had: I got lost twice on the way to the interview, was rushing and got a speeding ticket, arrived 1/2 hour late and totally frazzled, then called the hiring manager by the wrong name. 🤣🤔#BeMemorable

— Marjorie Otterson - Out of spoons and mad as hell. (@designotter) June 14, 2022

But did David get the job?!
You were hired immediately, right? pic.twitter.com/IJiL9MAwUh

— jack mcgraw (@redmcgraw1) June 14, 2022
I know you don't want to hear this... but sadly no, David didn't get the job.
"I tried doggedly, but alas… no 'job'," he wrote in response to several people asking. He also posted a cropped image of the dog, making the canine's expression look less than impressed.
June 14, 2022
Bad luck... but maybe David just used the wrong dog pic?
If you'd sent me this picture if a dog portraying Patrick Stewart, I'd have given you the job! pic.twitter.com/BKqguKwNo7

— simon le vans 💙 (@simonlevans) June 15, 2022
Main image: Twitter/@byron_queen